All day today has been devoted to getting this doll finished for my mom. I worked last night until 3:00 a.m. this morning and just finished. She was kind of a pain because the crushed velvet wasn't really cooperating but I like the end result.
I guess I should go into detail about my dolls. Well, my mom loves them. She used to spent some serious money on dolls like this one, they are called muslin dolls, and after checking one out I thought to myself: "I can do that."
My first doll was a Valentine's Day one for mom last year. Here she is...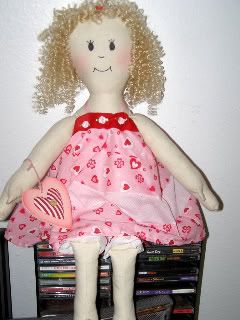 Anyway, when I gave her to my mom, she just loved her. Up to this date I have made five for her. Valentine's Day, Easter, 4th of July, Halloween, and now Christmas. I read on this one site that you should sign and date your dolls on the back because you never know where they might end up in a hundred years. Maybe one day my great-granddaughter will display these. Hmmm...that's a neat thought.
Ok, so to do this type of doll you have to have moderate sewing ability. I made my own pattern and these dolls are about 80% free hand. Just use your imagination and go wild. Clothes for the doll are kind of a pain but with trial and error, trust me, they will get better. You will need about a 1/2 yard muslin fabric, bag of Fiberfill, doll hair (you can find this at any craft store), permanent marker (if you are making this doll for a child you CAN NOT use markers or paint), makeup brush and blush, and any 2 fabrics of your choice for the clothes. If you have any questions about how to make this doll let me know.
Well, here are some more pics of my doll that I did today. I forgot to mention that I also name my dolls, makes me feel better about writing my name on their butt if their name is on there too. This one's name is Christmas Eve. Ahh, I love it.
I hope everyone has a great Saturday afternoon.