My project for today was to make a tote handbag. I had no idea what I was doing so I did a google search to see "how to make a tote?"
There were a million instruction but I opted to look around on eBay and see what other people had done. I do that. I just look at something I like and attempt to imitate it. I never use patterns, unless they are ones that I have made myself, and just go to work. Sometimes it works and others it doesn't. I'm told that my Grandma S. used to do that. Isn't it crazy what gets passed on through genetics?
OK, so I started my project at Joann's. I love it there, they were having so many sales. Anyway, I went to get my fabric. I picked 2 coordinating ones that I thought would work and I got them in 100% cotton canvas so that it would be a little heavier and I wouldn't have to do a lining.
When I got home, I got to work. While the Steelers whooped the Chargers(YAY!), I worked on my tote. The whole project took about 2 hours total. I'm pretty happy with the overall finished product.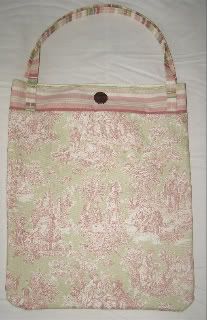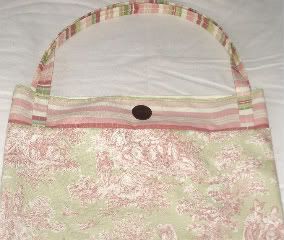 I think it's cute. Also, I don't plan on selling it. Tomorrow I'm going to ship it off to my mom. She adores toile fabric and I know that she would love this bag to take to work. So, here you go mom!
I hope everyone had a great weekend and GO STEELERS!